Reading an article today on the Feast of the Annunciation sparked a strong memory. My wife and daughter and I spent a glorious week at Christmas 2001 in Florence. While the weather was wintry, we had many of the sites virtually to ourselves. And the highlight for me were visits to the Uffizi Gallery and to the Botticellis housed there.
I want to mention two of them on this (transferred) "Lady Day." The first is one of several Annunciations Botticelli made.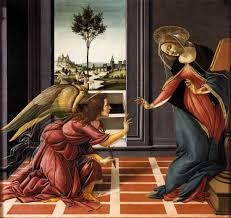 Sandro Botticelli, "Annunciation" (Cestello), Uffizi Gallery (Wikimedia Commons)
The inscription on the frame reads: "The Spirit of the Lord will come upon you, and the power of the Most High shall overshadow you." "Behold the handmaid of the Lord. Be it to me according to your word."
What is so striking is the simplicity of the scene: two persons almost but not quite touching hands, the one speaking a message, the other receiving it bodily in modest retreat. Unlike other Annunciations, there is no representation of the Spirit; rather He fills the gap between the angel's word of promise and her assent to it.
Nearby this smallish painting in the Uffizi is the great "Primavera" ("Spring").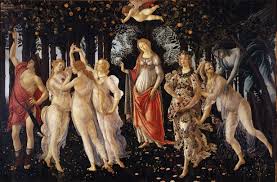 Sandro Botticelli, "Primavera," Uffizi Gallery (Wikipedia)
This is a hugely complex painting with many symbolic interpretations. The central figure is Venus, the Queen of love and marriage, ushering in the flowers of spring.
All of Botticelli's female figures, clothed or unclothed, are elegant and ethereal, true Ladies. I would suggest both beautiful ladies of these portraits represent Love, divine and human. Venus, even with her Cupid, inspires the chaste arousal that brings lovers to the marriage bed. The Virgin, by accepting the word of Gabriel, forgoes the nuptial rites in order to serve as "handmaid of the Lord" in bearing the Son. As she is overshadowed by the Lord, her own face bears the shadow of the Cross ("a sword will pierce your soul" – Luke 2:35).
With the Resurrection, the shadow of death is swallowed up in the Divine Love, and the Garden of eternal spring is opened to all Christ's people, as expressed in one of my favorite Easter Hymns, "Come Ye Faithful, Raise the Strain":
'Tis the spring of souls today; Christ hath burst his prison,
and from three days' sleep in death as a sun hath risen;
all the winter of our sins, long and dark, is flying
from his light, to whom we give laud and praise undying.
It is still cold here in Pennsylvania, but Spring has already come in the promised Son of the Virgin.