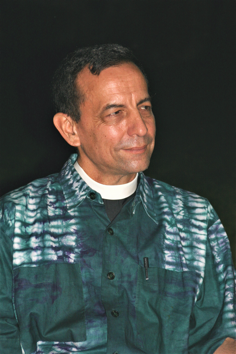 The Rev. Dr. Stephen Noll is Professor Emeritus of Biblical Studies at Trinity School for Ministry, Ambridge, PA; retired Vice Chancellor of Uganda Christian University, Mukono, Uganda; and Consultant on Marriage Family and the Single Life for the Anglican Church in North America. He has served on the Statement Group for Global Anglican Future Conferences in 2008, 2013, and 2018, and is Convener of the Gafcon Task Force on Women in the Episcopate.
The Rev. Dr. Stephen Noll was born and raised in Arlington, Virginia. He graduated with a B.A. (Phi Beta Kappa) from Cornell University in 1968 and received the Master of Arts degree from the Graduate Theological Union in 1970 and the Master of Divinity degree from Church Divinity School of the Pacific in Berkeley, California. He studied under Professors F. F. Bruce and Barnabas Lindars at University of Manchester (UK) where he received the Ph.D. in Biblical Studies in 1979. In 2008, he was awarded the Doctor of Divinity degree from Nashotah House Theological Seminary.
Stephen became a Christian and was baptized in the Episcopal Church in 1966. He was ordained deacon and priest in 1971 and 1972 and served as Assistant and Priest-in-Charge of Truro Episcopal Church from 1971-1976.
In 1979, after his studies in England, he joined the faculty of Trinity (Episcopal) School for Ministry, where he served for 21 years as Professor of Biblical Studies and Academic Dean, and is now Professor Emeritus of Biblical Studies.
Beginning in 1987, Stephen became involved in the theological controversies in the Episcopal Church. He was a founding Board member of the American Anglican Council and was active at the 1998 Lambeth Conference, networking with bishops from the Global South.
In 2000, he was appointed the first Vice Chancellor [President] of Uganda Christian University in Mukono, Uganda, where he served two terms, retiring in 2010. During that time, UCU became the first chartered private university in Uganda and grew from 750 to more than 10,000 students on four campuses.
Stephen has been a priest in the Diocese of Pittsburgh since 1979. In 2008, he left the Episcopal Church along with the diocese to become part of the Anglican Church in North America. He served as the Archbishop's Special Advisor on the Global Anglican Future until 2019 and as Consultant on Marriage, Family and the Single Life. He has been active in the Gafcon movement and serves as Convener of its Task Force on Women in the Episcopate.
Dr. Noll has written five books and numerous articles, scholarly and popular (see "Books" for current items). In 2018, he began blogging at Contending Anglican. All of the posts from this blog are now available on this website, mostly under the subsection "Contending Anglican." Stephen Noll has been married to Peggy since 1967 and they have five children and seven grandchildren.